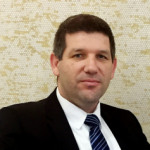 Amir Ronen co-founded Sensible Medical Innovations in 2007 with the aim of bringing top notch technology innovations to the area of heart failure care.
Prior to founding Sensible Medical, he served as the vice president in two NASDAQ traded companies (NSDQ: FLSH, SFUN) and played a leading role in the strategy planning at Intel Corporation (NSDQ: INTC).
Amir holds a B.Sc. in Electrical Engineering from the Technion – Israel Institute of Technology, and an MBA from the Kellogg (Northwestern University)-Recanati (Tel-Aviv University) International Executive MBA program.
---