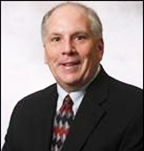 Bob is a co-founder and managing director of Ultimus Fund Solutions, LLC. He is primarily responsible for managing client relationships and new business development. He assists clients with new product development, industry research, regulatory matters and consults with clients regarding strategic issues such as distribution, pricing, product design and fund governance matters.
Prior to co-founding Ultimus in August of 1999, he was president of Countrywide Fund Services, Inc (formerly MGF Service Corp), a registered transfer agent and mutual fund service provider. During his 15 years at Countrywide, he held various positions of increasing responsibilities including controller, treasurer, chief financial officer and president.
Prior to joining Countrywide, he was the assistant controller and tax manager at Carlisle Enterprises. He began his career in the tax department of Arthur Andersen's Cincinnati office where he served individuals, partnerships and corporations for over three years.
He is a graduate of Christian Brothers University and is a CPA (Inactive).
---
Michael Dubin is Managing Partner at Dorset Management, an alternatives investment manager with a specialization in discretionary commodity and managed futures traders.  For more than a decade, he headed up the alternatives group at Silvercrest Asset Management, a $20B wealth management firm managing private investor and institutional portfolios across all asset classes. He served as CEO and CIO of the unit at various times. The alternatives group advised on $2 billion in hedge fund-of-funds and customized portfolios of alternative investments. Mr. Dubin has been actively involved in alternative investments for nearly 40 years, particularly in the areas of managed futures and foreign exchange going back to the 1970's.  Prior to Silvercrest, as a Partner at Powers & Dubin for over 15 years, he developed their expertise in hedge fund-of-funds and managed futures.  Previously, for nearly a decade in the 1980's, he served as President of both Morgan Stanley/GFTA and GFTA Services, which marketed sophisticated multi-billion-dollar currency risk management systems for major institutions worldwide.  The GFTA side of the business was effectively a large European-based systematic hedge fund, focused on the interbank currency markets. Earlier, he headed up the International Financial Advisory Service at Brown Brothers Harriman & Co., which was a 20-person consulting group within the Bank, advising the Treasurers of the Fortune 500 companies on currency risk management during the early days of floating exchange rates.
He authored the book, Foreign Acquisitions and the Growth of the Multi-National Firm, and lectures frequently on alternative investments and financial markets issues at conferences and business schools. He has a Doctorate of Business Administration from the Harvard Business School in International Finance and a BA from Yale University in Biophysics and Molecular Biochemistry. He holds a Series 3 Registration with the NFA/CFTC.  He serves on several Advisory Boards, including the Institutional Investor RIA Institute. He was Chairman of the Endowment Committee of the Town School, where he was a Trustee and Treasurer for over a decade, and currently serves as a Director & Treasurer for both Positive Planet, a non-profit NGO in global microfinance, and the Coalition for Financial Empowerment Fund, a non-profit which supports US mayors in establishing counseling programs for inner-city residents to achieve financial stability.
---
Michelle advises corporations, families, family offices, foundations and estates with valuation services, acquisition and sales of art, as well as comprehensive collection management services. She has been engaged in various aspects of the art world for over 20 years including working in retail galleries (in Seattle), museum settings (The Fogg Museum), teaching university-level art history courses (Boston University and Rhode Island School of Design) and lecturing on various art historical topics in settings such as the Museum of Modern Art in New York as well as venues in Seattle, Boston, Providence and Newport, RI. Michelle routinely gives talks on the art market to financial institutions and family offices.
She earned her PhD in Art History from Boston University and co-authored the Jacob Lawrence catalogue raisonne. She is the author of numerous publications on 20th Century American artists.
---
Anita Durst has been a star, a muse, and a patron of the avant-garde performing arts and emerging arts scene in New York City, since she was 18. She founded Chashama in 1995 following the death of her mentor and artistic professor Reza Abdoh. While performing and working in his company, Dar A Luz, she learned the value of unbridled expression and how to value art objectively. In the wake of Reza's absence she was driven to create a place for artists free of financial and subjective constraints. Anita has worked tirelessly for over 20 years to secure over one million square feet of space in New York City for artists.
She believes programs like Chashama are the vital building blocks to ensuring cultural capital in New York City. Anita was born in New York City and was the flower child to hippy parents living in New Foundland Canada, Ibiza Spain, and the suburbs of New York City. As a precocious teenager she resisted conventional schooling. Shortly after graduating high school she moved back to New York City to help care for her grandfather. Today, Anita sits on the boards of the Tai Chi Chuan Center and Bindlestiff Family Cirkus.
She is a proud mother who ensures her entire family eats healthy, practices mindful movement, and lives in the moment. True to her ability to be in the moment and greatest strength of objective thinking, she believes all art to be valuable.
---