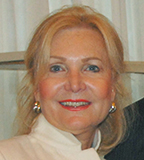 Sharon Flescher is the Executive Director of the International Foundation for Art Research (IFAR) and Editor-in-Chief of the quarterly IFAR Journal.  A graduate of Barnard College, Dr. Flescher holds Masters Degrees in both English literature and art history and has a Ph.D. in art history from Columbia University. She also attended the Wharton School of Business. Her professional career has straddled the academic, business and nonprofit worlds. In addition to her work at IFAR, she is an Adjunct Associate Professor at New York University (NYU).
Prior to joining IFAR in 1998, she was Director of Grants and Programs at The Equitable (now AXA) Foundation; a Program Officer at National Endowment for the Humanities, and Director of Institutional Relations at the Central Park Conservancy. She also taught at Brooklyn College, the City University of New York, and worked at the Metropolitan Museum of Art.
Her numerous media appearances include BBC, NPR, CBS, ABC "Nightline", and the NBC "Today Show," and she has been frequently quoted in the New York Times, the Financial Times, The Wall Street Journal,  The Art Newspaper, Art & Auction, and many other publications. Dr. Flescher has served on advisory roundtables for the U.S. State Department, the CIA, and the National Archives and Records Administration.  She conceived IFAR's two major online resources, the Catalogue Raisonné Database and the Art Law & Cultural Property Database, for which she remains Project Director, and she co-authored its online Provenance Guide.