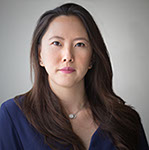 Jenny Chan is the senior investment officer for the Doris Duke Charitable Foundation. The investment team at the foundation manages a $1.8 billion portfolio, investing in all asset classes, while the foundation also holds three operating properties in Hillsborough, New Jersey; Newport, Rhode Island; and Honolulu, Hawaii, with an estimated market value of $200 million.
Prior to joining the foundation in 2007, Jenny led the research effort covering hedge funds and funds of funds at Canterbury Consulting in Newport, CA. Prior to that she was a vice president of a quantitative focused fund of funds also in CA. In New York, she began her career at Salomon Brothers Inc. in fixed income research; followed by Deutsche Bank and later Moore Capital Management. She has over 14 years of experience covering alternative assets.
She earned a BS in finance and accounting from New York University. She has been a CAIA Charter Holder since 2004.